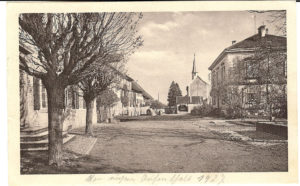 Since 2006 we are working on the projects zeitgarten.ch (lit.: timegarden.ch), communication and collecting point for history and stories of the Pfyn community, a digital archive and the Transitory Museum at Pfyn (TMP), a living, ever changing form of representation of the digital archive which deals with fundamental questions about history and stories, culture, time, collection and with reflections on the legacy of our culture.
Both projects are supported by Kulturstiftung des Kantons Thurgau (Foundation for Culture Canton Thurgau), Thurgauische Kulturstiftung Ottoberg (Thurgau Foundation for Culture Ottoberg), Dr. Heinrich Mezger Stiftung (Dr.-Heinrich-Mezger-Foundation), Jubiläumsfond der Thurgauer Kantonalbank (Jubilee Fund of the Cantonal Bank Thurgau), Kulturförderung Appenzell ( Cultural Sponsorship Appenzell) and the Community of Pfyn. 2008 a museums association (Kultur Pfyn) was founded to support the activities of the TMP. Due to interdisciplinary cooperation with institutions like Amt f. Archaeologie Thurgau, Staatsarchiv Thurgau, ZHAW Dept. Information Technology, University of Zurich Dept. History and the Protestant Church of Pfyn, we are able to get loans of objects, support or help.
The Transitory Museum at Pfyn became a member of the VMS-AMS (Verband der Museen der Schweiz – Association des musées suisses – Associazione dei musei svizzeri), the Association of Museums of Switzerland and appears in the Swiss Museum Guide.
While zeitgarten.ch opens its gates for its visitors by prior appointment, the Transitory Museum cannot only be visited solely in Pfyn or at certain times: The trail of history and stories of Pfyn is always available and can be visited by a selfguided tour with the help of a leaflet. The museum Pfyn at the Trotte opens by prior appointment or at events and can exhibit as a representation of Pfyn at any other location.
Documentation regarding events of the Transitory Museum and zeitgarten.ch can be found in the digital archive and on the website www.museumpfyn.ch.
zeitgarten.ch and the Transitory Museum at Pfyn were represented at exhibitions at Kunstraum Kreuzlingen, at the und09 in Uzwil and the Regionale9 in the Kunsthaus Langenthal in 2009, at Apexart NYC, the artship Stadt Bern in Thun and in Kunstraum Winterthur 2010, documenta 13/Critical Art Ensemble 2012, OHNE RAST, Stadt Zug 2015 and CENTRAL BOOKING NYC 2018.
Since 2006 zeitgarten.ch is inviting citizens of Pfyn to share their personal history and memories with us, in form of video interviews, letting us scan and archive their private fotos or take fotos of special items.
This work formed a digital archive of about 5000 fotos, uncountable texts and documents, audio and video files with stories about Pfyn. Apart from that other institutions like Amt f. Archaeology shared their documents and fotos with our archive and we started to build up a database that you can find here.