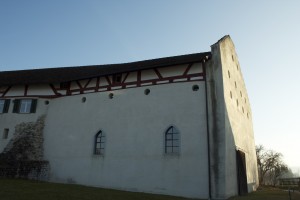 Dominik Riedo, writer and cultural minister of Switzerland AD and the community of Romoos will forward the title 'cultural capital of Switzerland' to the community of Pfyn on the 13th of March 2011. Member of the governing council, Mrs Monika Knill will hold a welcoming speech. Mayor of Pfyn, Mrs Jacqueline Mueller will report how Pfyn is preparing for this challenge. Mayor of Romoos, Mr Franz Koch will tell about the meaning of the title 'cultural capital of Switzerland' for his community Romoos. Dominik Riedo and Alex Meszmer are going to philosophise in a 'bataille culturelle' about culture and the local band 'Staedtlimusik' will enrich the ceremony with their music.
'Culture. What means culture?Does culture only happen in urban environment? Does a division between urban culture and rural cultre exist? Are they different? Is culture just one culture? with just one goal? does culture have a goal? or just a meaning? can everything be part of culture? Can you declare yourself a 'city' to be perceived as a cultural spot? When a town becomes a city? If there is enough culture?
Dominik Riedo asked these questions, when he declared Romoos 'cultural capital of Switzerland'.
AD FINES – Pfyn
Pottery fragments make clear that it all began 5700 years ago. The name is roman – the Romans called the customs fortress between two roman provinces ad fines. A medieval tyrant had been up to mischief and constructed a castle. Archeologists read the waste of history and construct combinations – but what will remain for us and our culture?
What is going to happen in a small Swiss community, if she is going to be aware of history and decides to live culture in the present? Is history enough culture? Can culture be lived in a community? And: Can culture be developed democratically from the basis? Maybe even: Can Art be democratic?
Is democrazy just the lowest common denominator? Does democrazy mean just to follow mainstream? Does culture have majority appeal?
Are our democrazies still not grown up yet? Does Art and/or culture really represent our daily form of life and governance?
And: what needs to change?
We are going to ask these questions – and we are curious about the answers, we will be collecting within the following two years.